Well, hi, I'm Sean Werkema.  I'm a happily-married father of two, and I live in southeastern Pennsylvania.  My lovely wife Robin is the mother of our two bouncy kids, Alan and Catherine.  We have a dog and a cat, and we generally lead a pretty quiet life.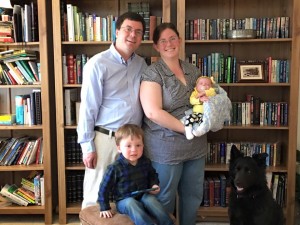 ---
I write software for a living.  You may know me as the author of SpaceMonger, or as a Principal Software Engineer at HomeNet Automotive who built a lot of HomeNet's flagship InventoryOnline software.  (You might know me from one of the Cox Automotive Software meetups, too.)  Or you may know me as the creator of the Smile Programming Language, or possibly from one of my open-source projects.
I've been writing code since I was very little, perhaps at times to the consternation of my parents.  I started coding in 1984, when I was eight years old, and never stopped.  At first it was BASIC, and then 6502 assembly, and then x86 assembly and C and Pascal and a whole lot more.  These days, I code mostly in C# and JavaScript and C, but I've done quite a lot of C++ and assembly too.  I'm fluent in about 30 programming languages today, give or take a few, and reasonably comfortable coding in a dozen more if I'm pressed to do so.  I wrote my first million lines of code before circa 2002, and then I stopped counting (hint: It's been a lot more since then).  I've earned more than a few accolades over the years for my work, but my proudest professional achievement is earning a Knuth reward check for TAoCP, Volume 1.
You may know me as a handbell ringer at Westminster Presbyterian Church, where I've been a member since the late '80s, or from Penn State, where I got my Bachelor's degree in Computer Science in 1998, or from Henderson High School, from which I graduated in 1994.  You might even know me from the quiet little town of Whitehall, Michigan where I grew up.  And despite my more-conservative Republican origins, I'm now a registered Independent, a moderate centrist who occasionally leans libertarian.
You might also know me from my Twitter feed where I rant and wax poetic about the state of the computer industry, or possibly by my pseudonym, who's an artist and a writer of a little repute.  (I'm neither a great artist nor a great writer, but they're fun and relaxing hobbies.)
---
If you need to contact me, my e-mail address is s℮an@w℮rk℮ma∙ϲοm.
(Note: I don't guarantee I'll read or respond to every e-mail I get sent. And I also have very aggressive spam filters, so if you don't get a reply and you're not whitelisted, please be patient, and be willing to try again.)